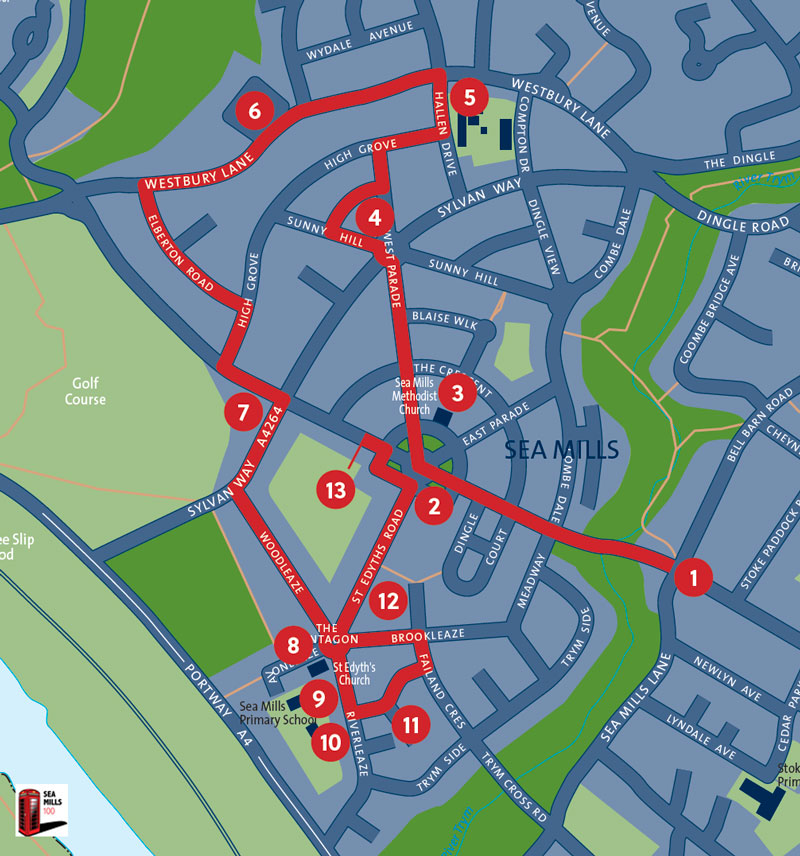 1. Meadway 2. The Square 3. Methodist Church 4. Library & Community Centre 5. Hallen Drive 6. Progress Inn & Haig Close 7. Sylvan Way 8 & 9. The Pentagon & St Edyths 10. Primary School 11. The Farm 12. St Edyths Road 13. The Rec
If travelling from Bristol city centre, you can reach the starting point of the walk – Meadway (1) – by taking the number 4 bus to the Sea Mills Lane stop and then walking in the direction of the estate along Shirehampton Road. If you prefer to take the train from Temple Meads to Sea Mills station, walk up Sea Mills Lane then turn left into Shirehampton Road.
Meadway is marked by one of the last of the original 1920s road signs for the Sea Mills estate to survive. The name is set on a wooden board attached to a tall concrete post. You'll see another later in the walk.
If you have travelled here from the direction of Bristol, you will have reached this spot by crossing the River Trym, which provides a natural buffer between Sea Mills and neighbouring Stoke Bishop. Until the late eleventh century, the river was navigable from the Avon as far as Westbury- on-Trym. Shifting land patterns have reduced its flow but it is rich in biodiversity and a valuable green asset for the area.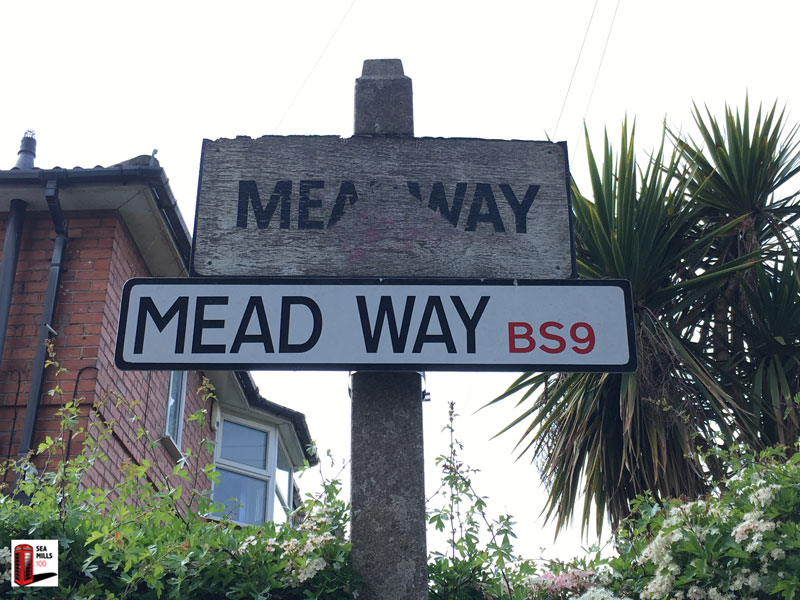 Coins and various fragments discovered at the mouth of the river have provided evidence of Portus Abonae, a Roman ferry station and military port that was located where Sea Mills now stands. It was abandoned by the Romans around the fourth century. If you walked up from the train station, you would have passed remnants of a dock built here in the eighteenth century. It was used for the fitting out of privateer and whaling ships, but was too far from the city centre to be commercially viable for trade and was abandoned in 1770. Although attempts to operate a dock at Sea Mills have proved fruitless, in the early years of the estate many local residents would have been employed at the docks in Avonmouth. Sea Mills tenants were charged the highest council rents in the city (a reflection of the high- quality of the housing) so people needed steady work and good wages to live here. Other estates were expanded after the Housing Act 1930 to accommodate those relocated from inner-city slums (see the Knowle West walk, for example). Sea Mills was left untouched by this, with little by way of new building until the infilling that took place after the Second World War. Therefore the community remained relatively prosperous and relatively stable for years
Introduction / The Square (directions to next stop)