War diaries
As part of Sea Mills 100 we came across an intriguing war diary written in a mixture of french and english in the possession of Deb Britton. Her Grandmother had been a house keeper at Coombe Lea in the Dingle for a Mrs Irene Thornton. Deb's family believe she was from the Thornton shipping family and that they came as Belgian refugees here during the war. Coombe Lea still exists but Pitchcombe Gardens has been built in the grounds. The family doesn't know how the diary came to be with them but the families were obviously close as they gave Deb's father, Brian Gearing a bike possibly for birthday or Christmas.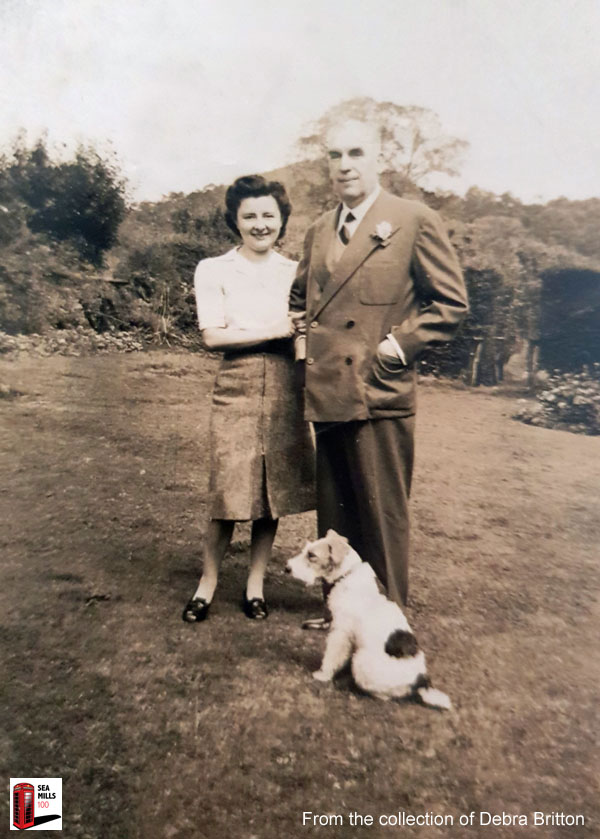 This picture, found in the possessions of Debra's mother is almost certainly Irene and her husband Eric, possibly in the garden at Coombe Lea.

The evidence we have managed to gather so far backs up Deb's family story and some of information in the diary. Irene Elizabeth Callens was born in Kortrijk, West-Vlaanderen, Belgium in November 1914 and married British born Eric Thornton in London in 1940. Eric was 22 years her senior and this was his second marriage, he had two grown up sons who had been born in Belgium (Frank & Eric) so we assume he had been living there for sometime and perhaps met Irene there before returning to England and getting married in September 1940. We also assume they returned to Belgium after the war because Eric senior died in Antwerp in November 1945. Irene re-married in 1956 to a William Shultz at the British Consulate in Hamberg. She died in Antwerp in March 1981 .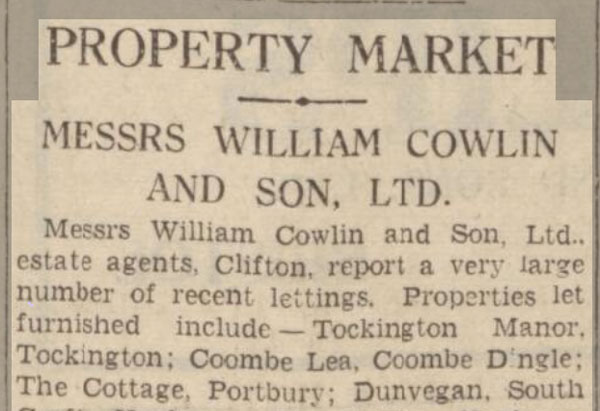 In the Western Daily Press on 14th October 1939 Coombe Lea appears on a long list of properties let furnished by Cowlin and Sons. Did Eric and Irene also rent the property from Cowlins after their marriage in 1940? Or maybe they purchased it.

Eric dies in 1945 in Belgium, but previous address is confirmed as Coombe Lea.
Western Daily Press 29th Nov 1945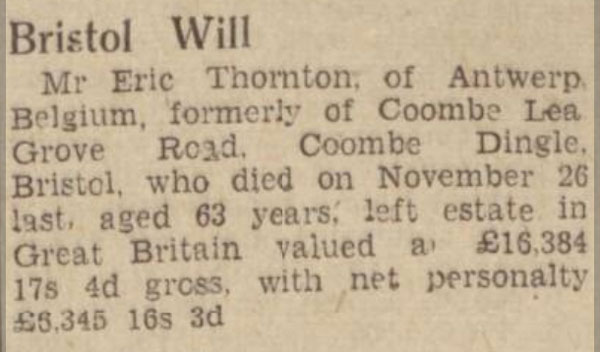 He left an estate in the UK of over £16,000
Western Daily Press 23rd Aug 1946
Irene's diary starts in late December 1940, a few months after her marriage to Eric.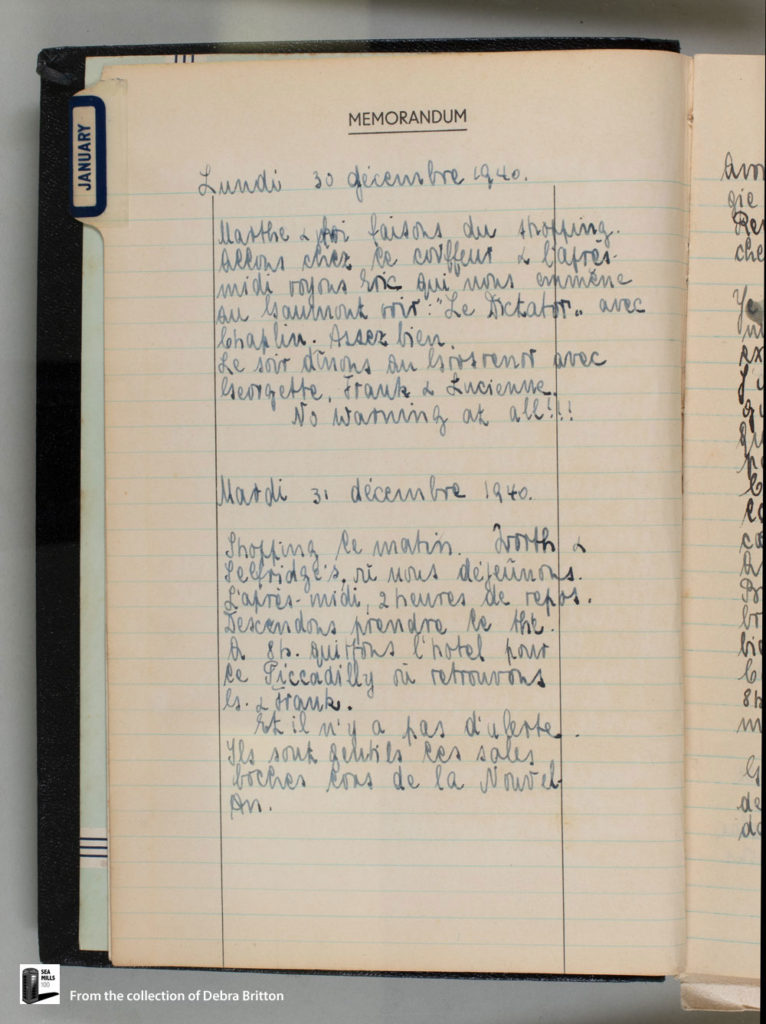 Monday 30th December 1940
Martha and I, we went to do shopping, then went to the hairdresser. In the afternoon we went to see Eric, who then took us to the Gaumont to see "The Dictator'" with Chaplin. It was quite good. In the evening we had dinner at the Grosvenor with Georgette, Frank and Lucienne.
No warning at all.
Tuesday 31st December 1940
Shopping in the morning Worth* and Selfridges where we had lunch. Afternoon – 2 hrs nap / rest. Came down for tea. 8pm we left the hotel for Piccadilly. We were me, G and Frank. No air warnings. They are kind the "dirty bosch" as it is New Years Eve.
*high end Parisian fashion designer, closed in 1956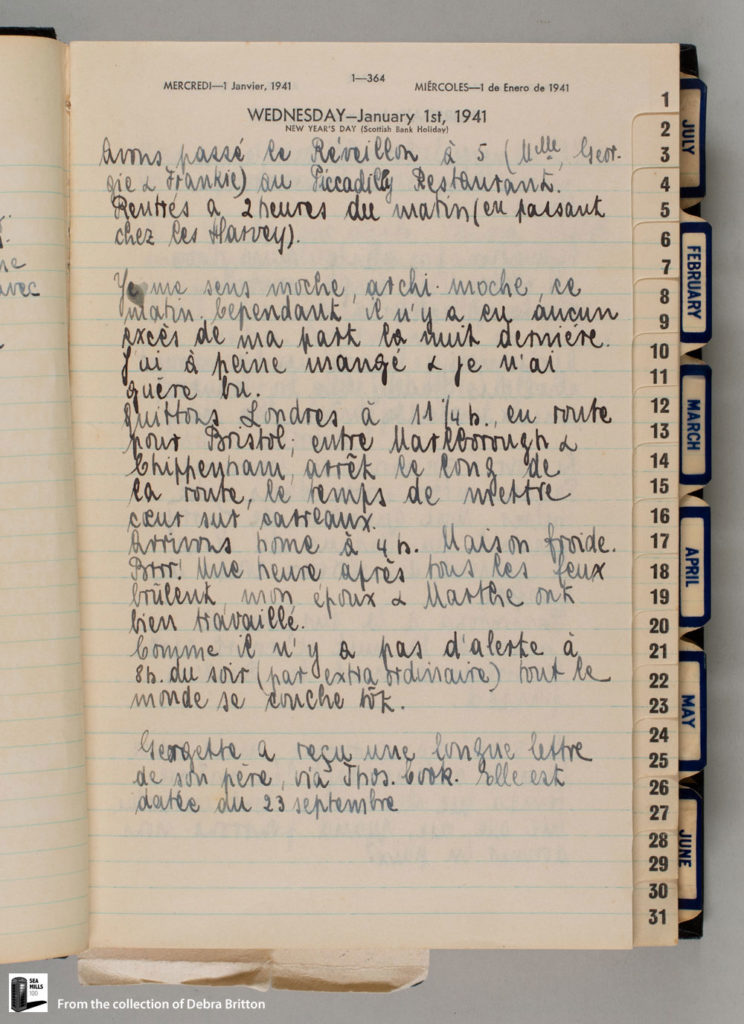 Weds January 1st 1941
Spent New Years Eve as a group of 5 (Milli? Georgie, Gie? and Frankie) at the Piccadilly Restaurant. Went home at 2am – going via the Harvey family house.
I feel pretty grotty this morning. Even though I did not have any excesses last night! I hardly ate anything and I didn't hardly drink. We Leave London at 11.15 en route for Bristol – between Marlbourgh and Chippenham – stopping along the route – just enough to put heart on the tiles (a quick break). Arrived home at 4pm – cold – Brrr!
One hour later all the fires are lit – thanks to my husband and Martha who worked hard. As there was no 8pm warning amazingly! We all went to bed early.
Georgette got a long letter from her dad via Thos. Cook – dated the 23rd Sept.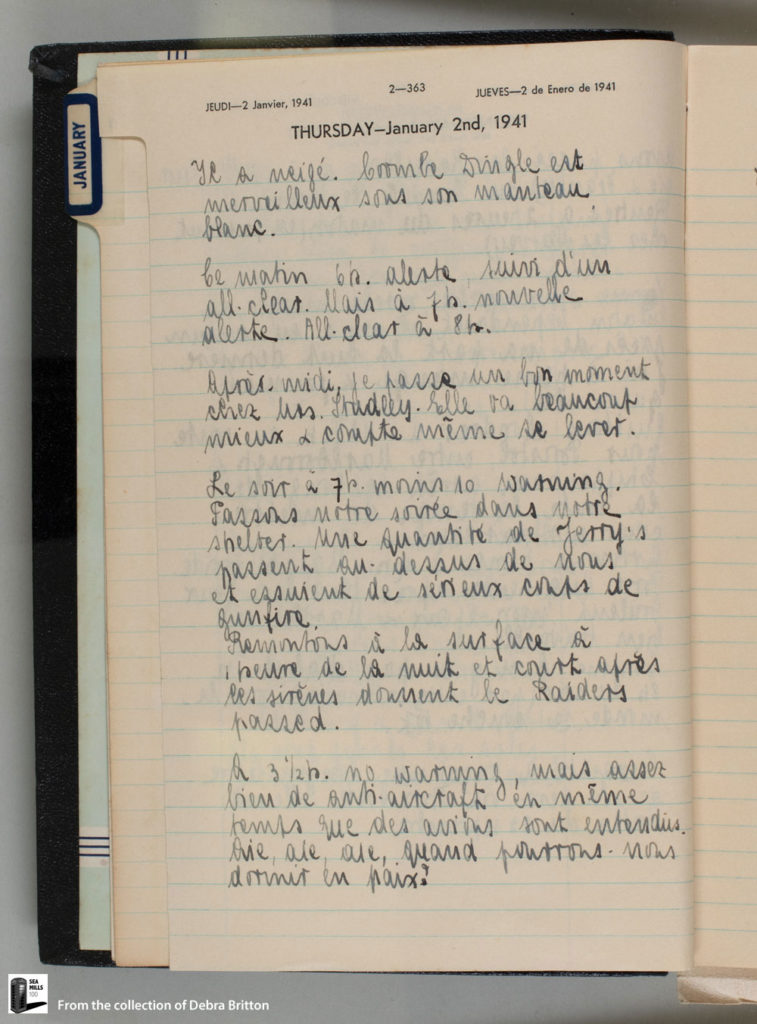 Thursday 2nd January 1940
It snowed. Coombe Dingle is marvellous under it's white coat. This morning 6am – alert followed by all clear. Then 7am new alert and all clear at 8am.
In the afternoon I spent a nice time at Mrs Studley's house. She is much better and can even stand up.
6.50pm Air Raid warning, spent the evening in our shelter. A quantity of Jerrys passing above us and some serious rounds of gunfire.
We went back up to the surface at 1am; and shortly after the sirens signalled the end of the raid.
At 3.30am no warnings but a lot of anti-aircraft fire sounds whilst lots of aircraft are heard. Ai Ai – when will we be able to sleep in peace!!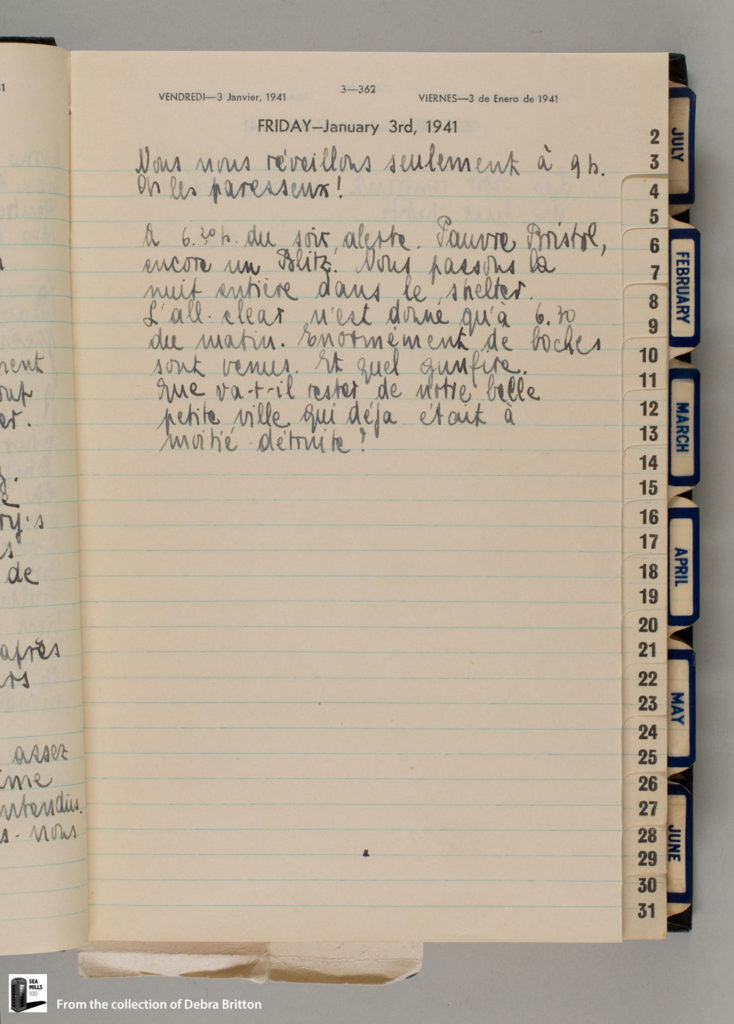 Friday January 3rd 1941
We didn't wake up until 9am – How lazy of us!
At 6.30pm Air Raid warning. Poor Bristol another Blitz attack. We spent the whole night in the shelter. The all clear was not given until 6.30am. Loads of boches* had come and so much gunfire!
What will happen to our beautiful little town that has already been half destroyed?
*pejorative slang term for German soldiers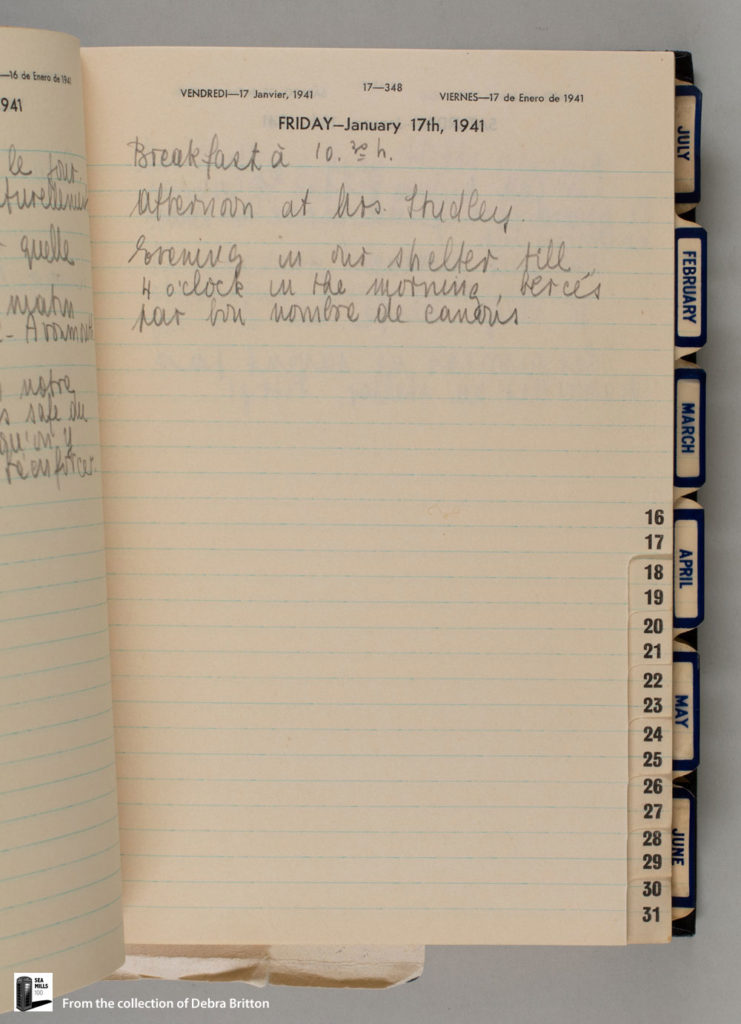 Friday January 17th 1941
Breakfast at 10.30. Afternoon at Mrs Studley's. Evening in our shelter until 4am. Disturbed by a large number of cannons / gunfire.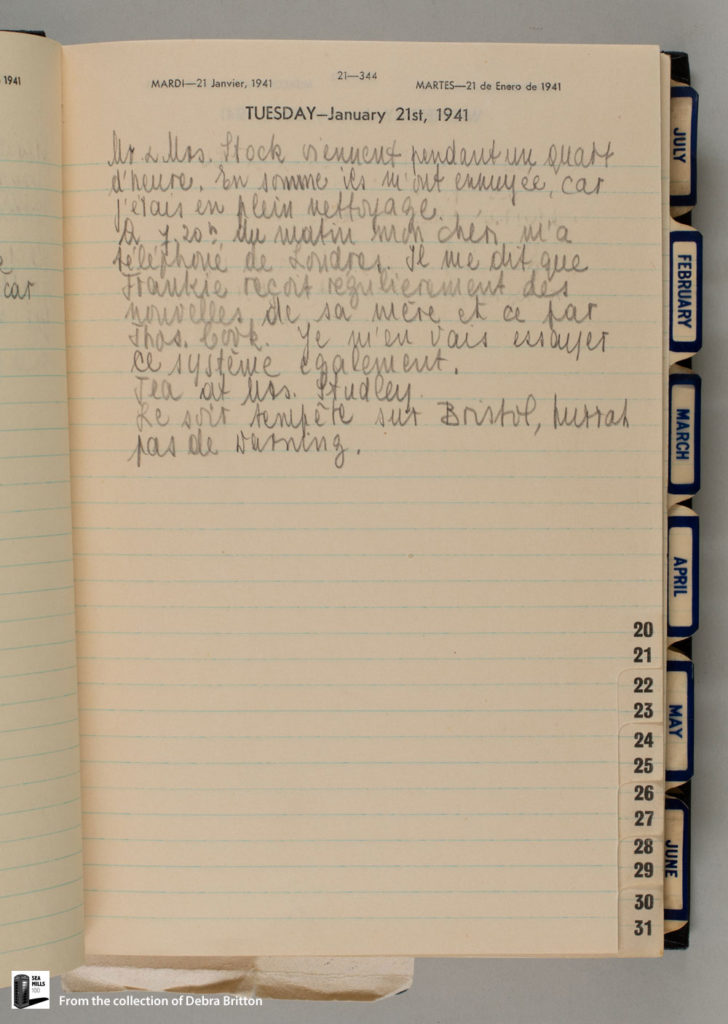 Tuesday January 21st 1941
Mr and Mrs Stock came for 15 mins. In fact, they quite annoyed me as I was in the middle of cleaning!
At 7.30am my beloved phoned me from London. Me told me that Frankie gets regular news updates of her mum and this via Thos. Cook. I am going to give the system a go.
Tea at Mrs Studley's.
In the evening a regular Tempest on Bristol – again no warning.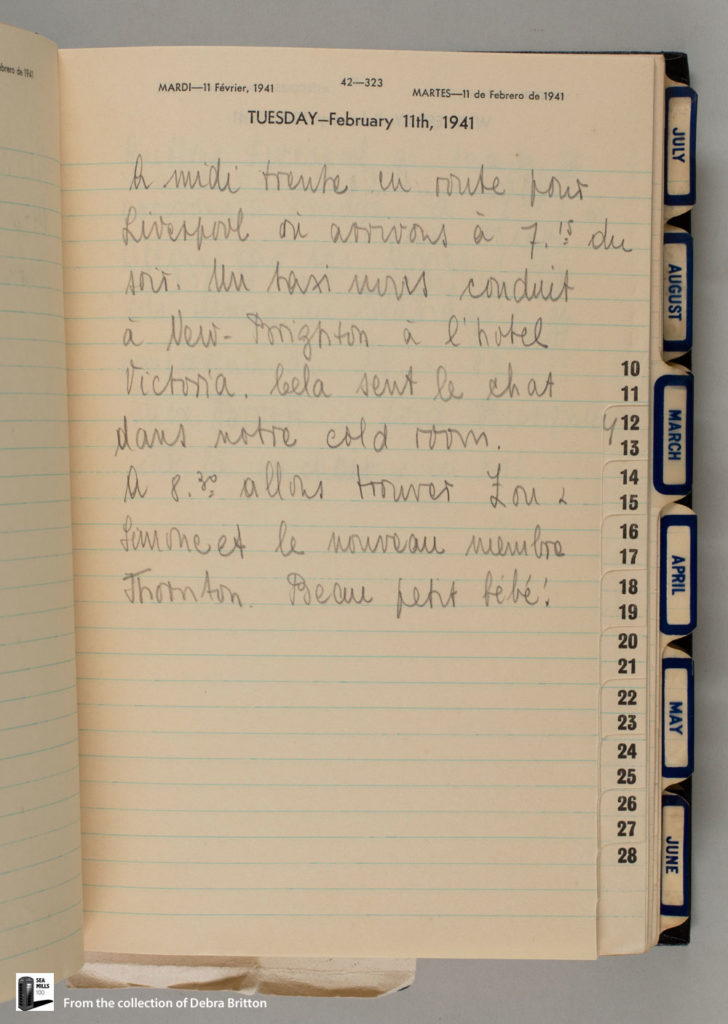 Tuesday 11th February 1941
12.30 enroute to Liverpool arriving 7.15pm. Taxi took us to New Brighton to the Victoria Hotel. It smells of cat in our cold room. 8.30 go to find Lou and Simone and the new member of the Thornton family. Beautiful little baby!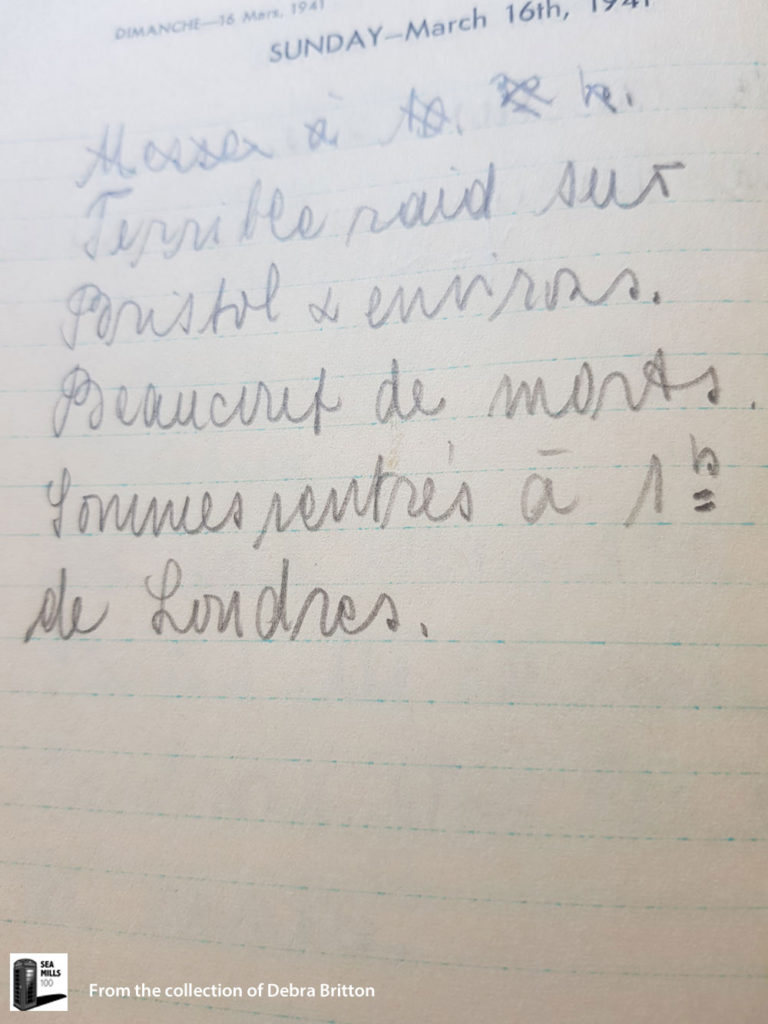 Sunday March 16th 1941
Terrible raid on Bristol and the surrounding area. Lots of deaths.
We got home from London at 1am .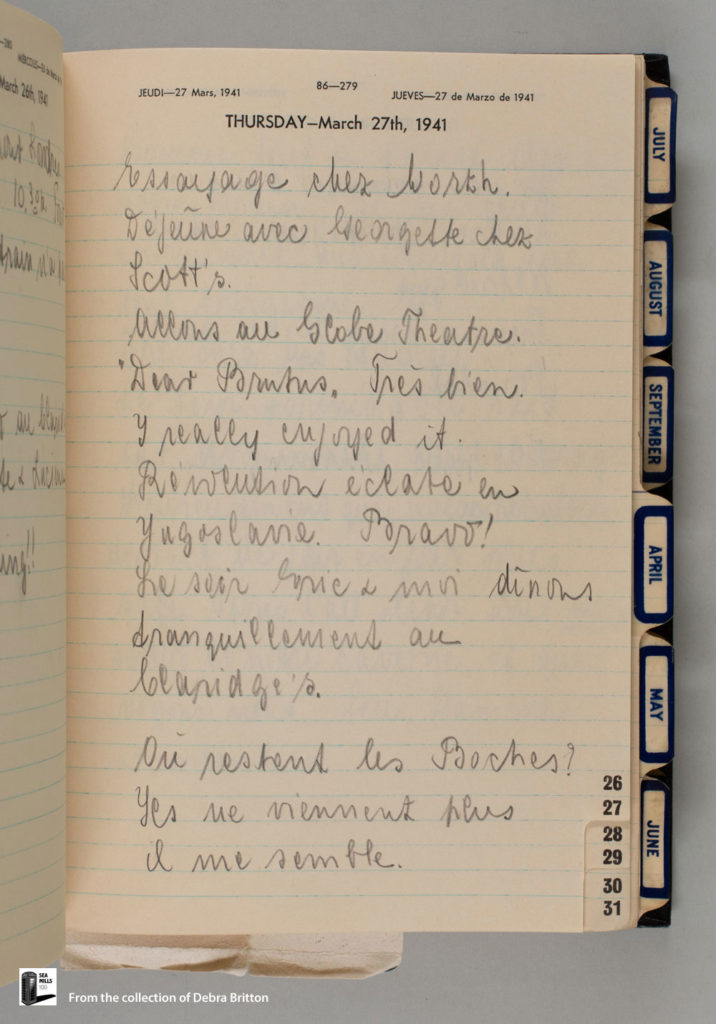 Thursday March 27th 1941
A fitting at Worth. Lunch with Georgetta at Scotts. Went to the Globe Theatre. "Dear Brutus" Very good. I really enjoyed it.
Revolution bursts out in Yugoslavia. Bravo!
In the evening Eric and I have a quiet evening at Claridges.
Where are the Boches hiding? They are not coming any more it seems to me!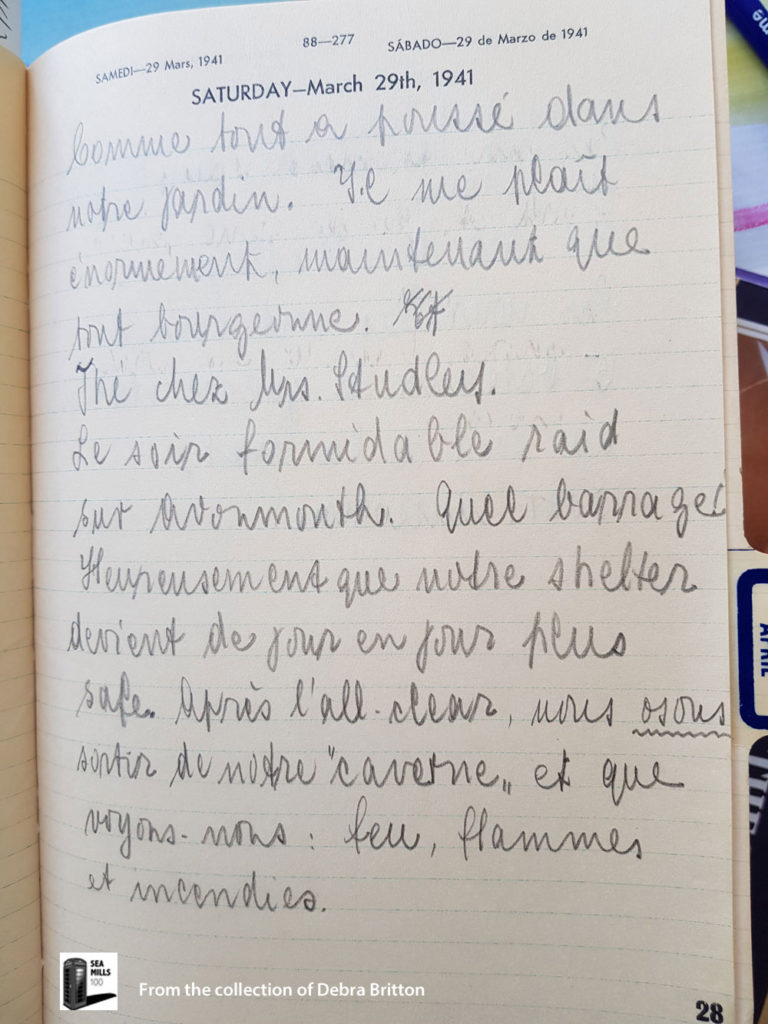 Saturday March 29th 1941
How everything has grown in the garden! I am enormously happy now that everything is germinating.
Tea at Mrs Studley's. In the evening there is a terrible raid on Avonmouth. What a barricade! Luckily our shelter with time becomes more 'safe'. After the all clear we tentatively leave our cavern (shelter) and what do we see: fire, flames and blazes.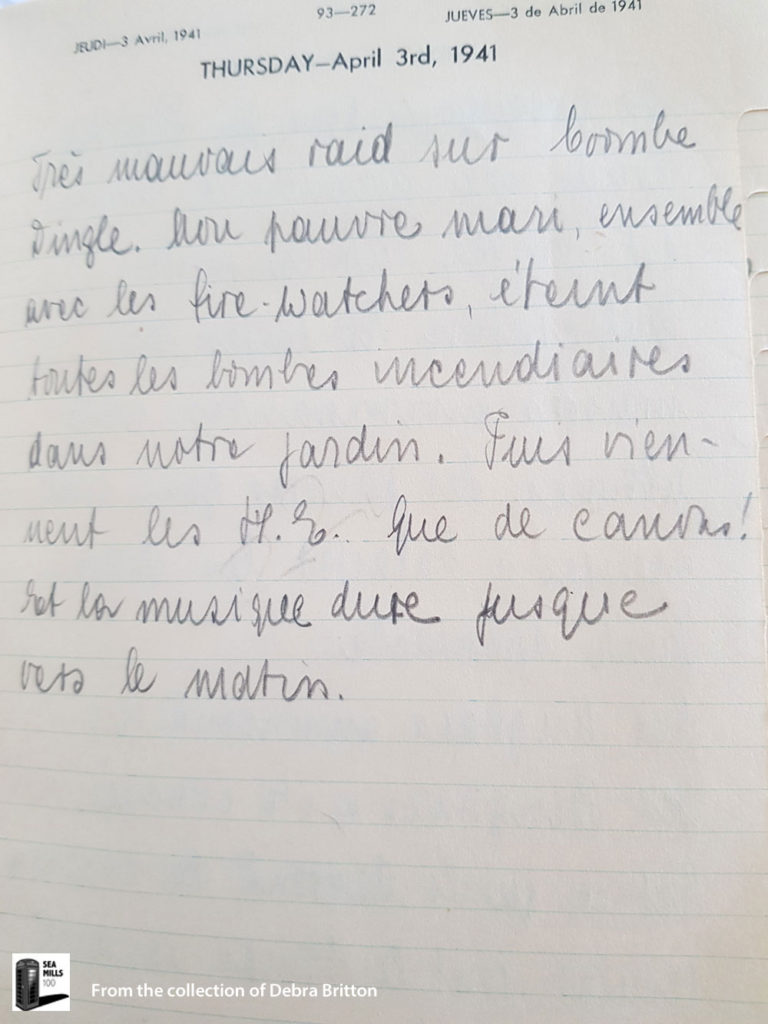 Thursday 3rd April 1941
Really bad raid on Coombe Dingle. My poor husband met up with the fire watchers – and put out all the incendiary bombs in our garden.
Then comes the H.E such gunfire*, and this music lasts all night til the morning!
*She uses the word canons, as in music – a play on words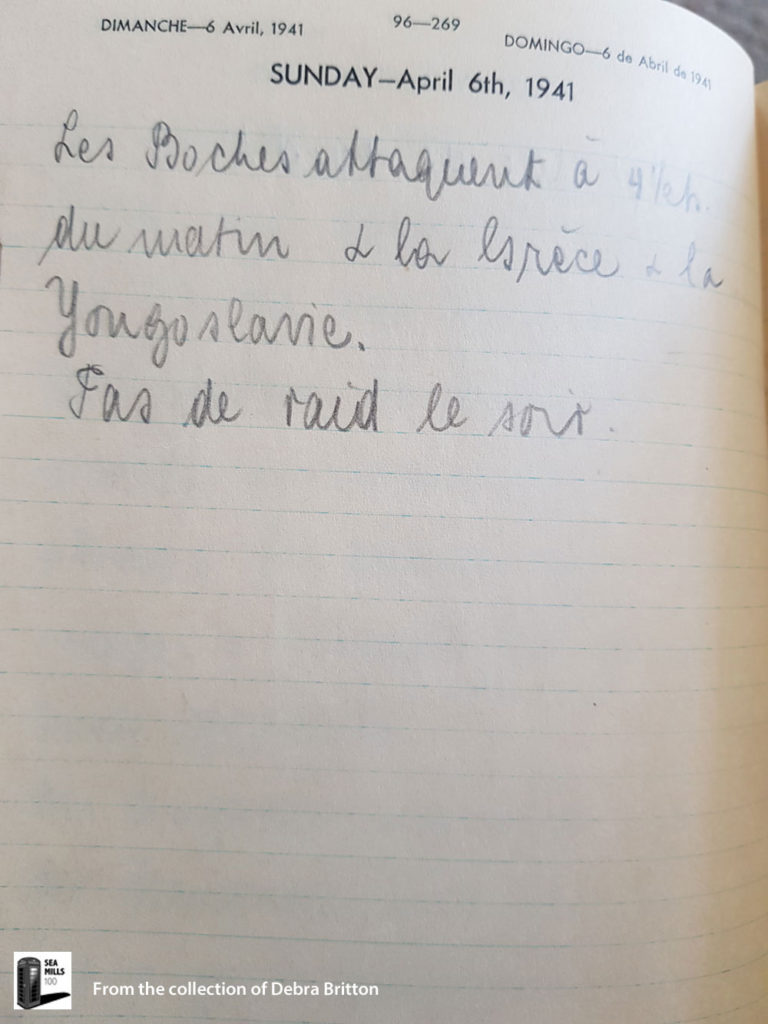 Sunday 6th April 1941
The Boches attached Greece and Yugoslavia at 4.30am. No raid in the evening.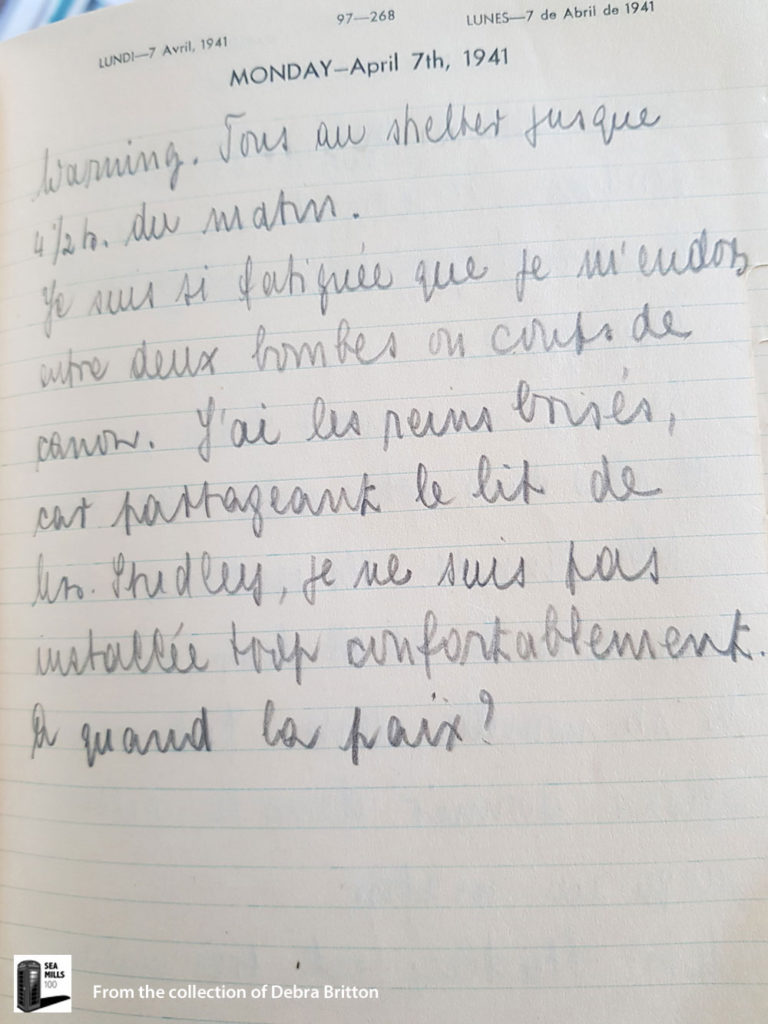 Monday 7th April 1941
Warning – everyone in the shelter until 4.30am. I am so tired that I fall asleep between two bomgings and a round of cannon fire. I haev awlful lower backache after sharing Mrs Studley's bed where I wasn't very comfortable. Oh – when is peace?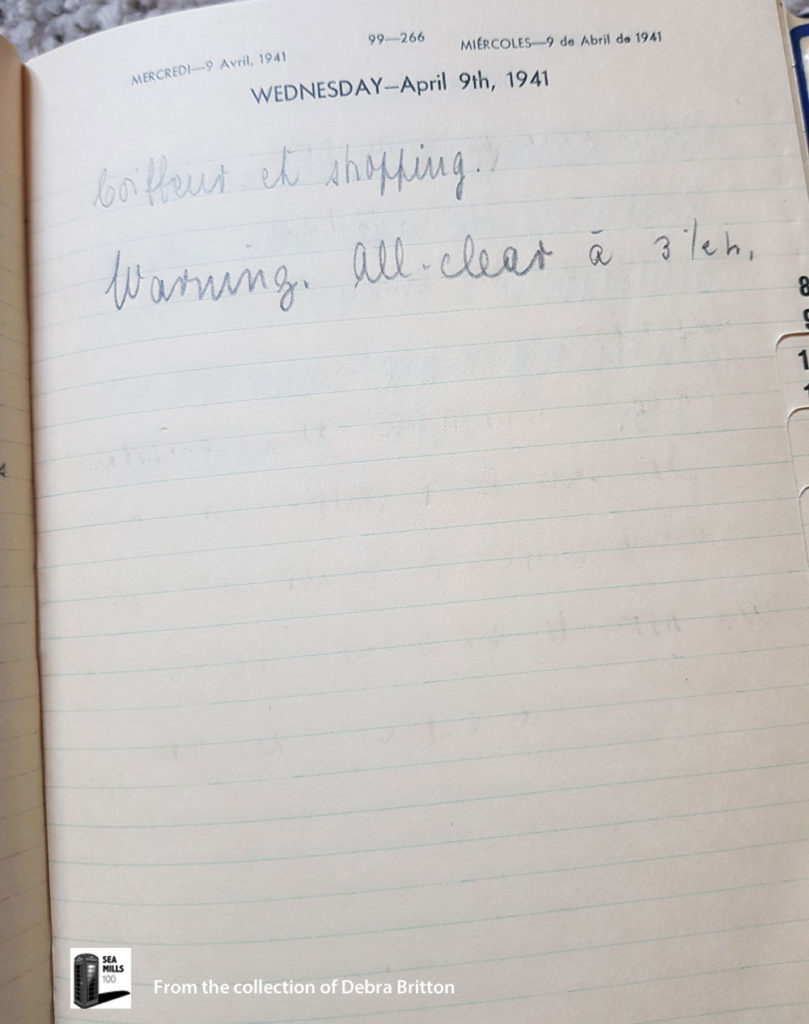 Wednesday April 9th 1941
Hairdressers and shopping.
Warning, then all clear at 3.30am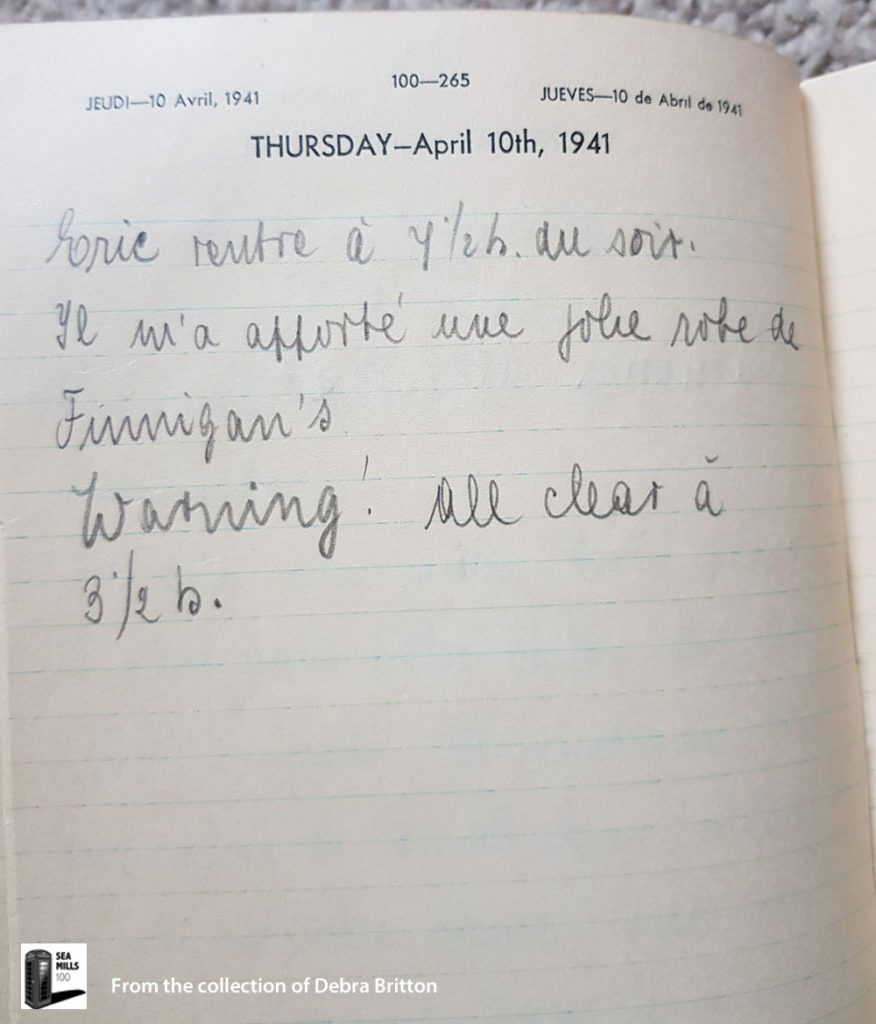 Thursday April 10th 1941
Eric came home at 7.30pm. He has brought me a pretty dress from Finnigan's.
Air raid warning – all clear at 3.30am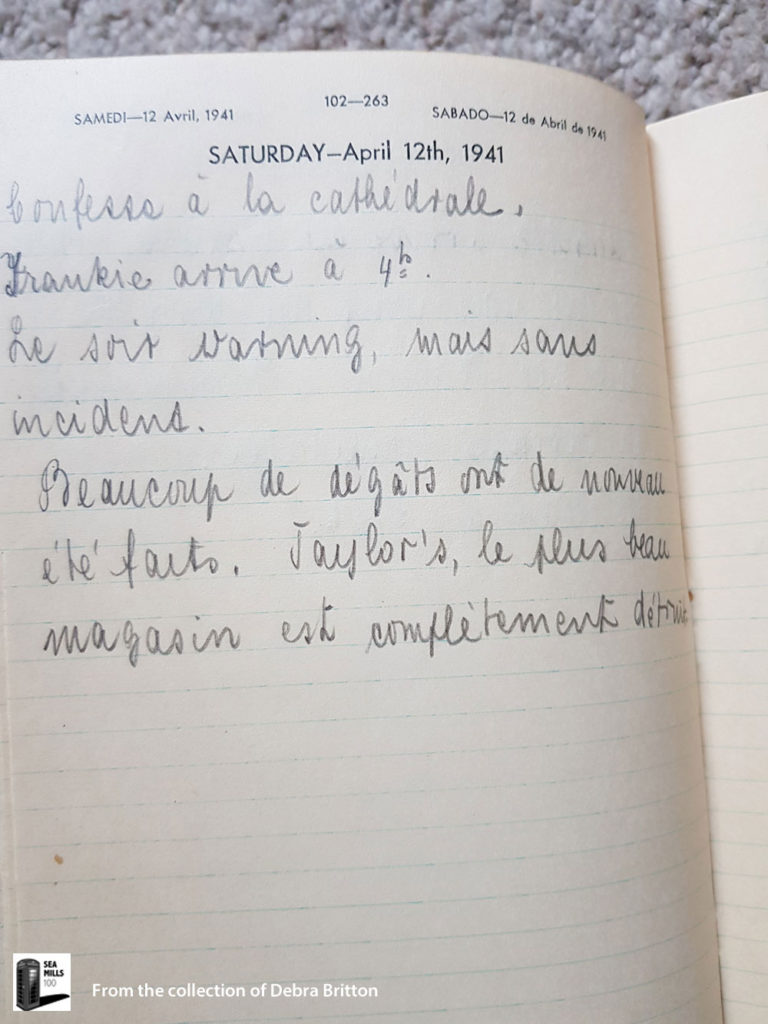 Saturday 12th April 1941
Confession at the Cathedral.
Frankie arrives at 4pm. In the evening an air raid warning but nothing happened.
Lots of new damage has been done. Taylor's the loveliest shop has been completely destroyed.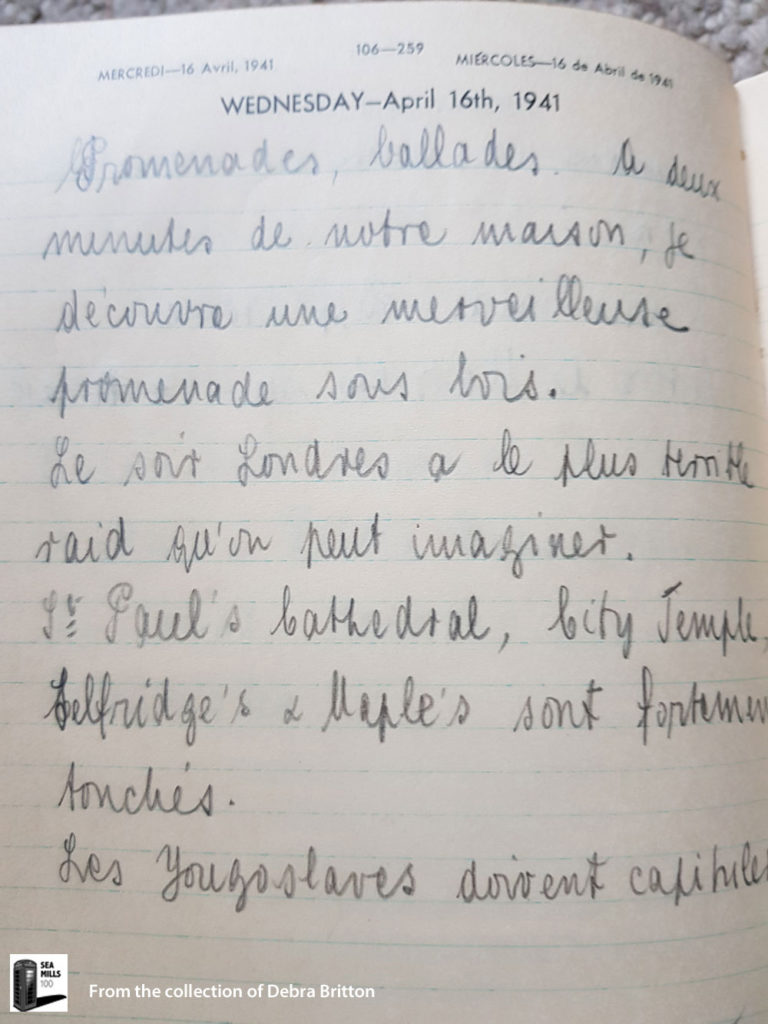 Wednesday 16th April 1941
Going for walks and drives. Two minutes from my house I have discovered a marvellous woodland walk.
In the evening London has the most terrible air raid you can imagine,. St Pauls Cathedral, City Temple, Selfridges and Maples are badly hit. The Yugoslavians have to capitulate.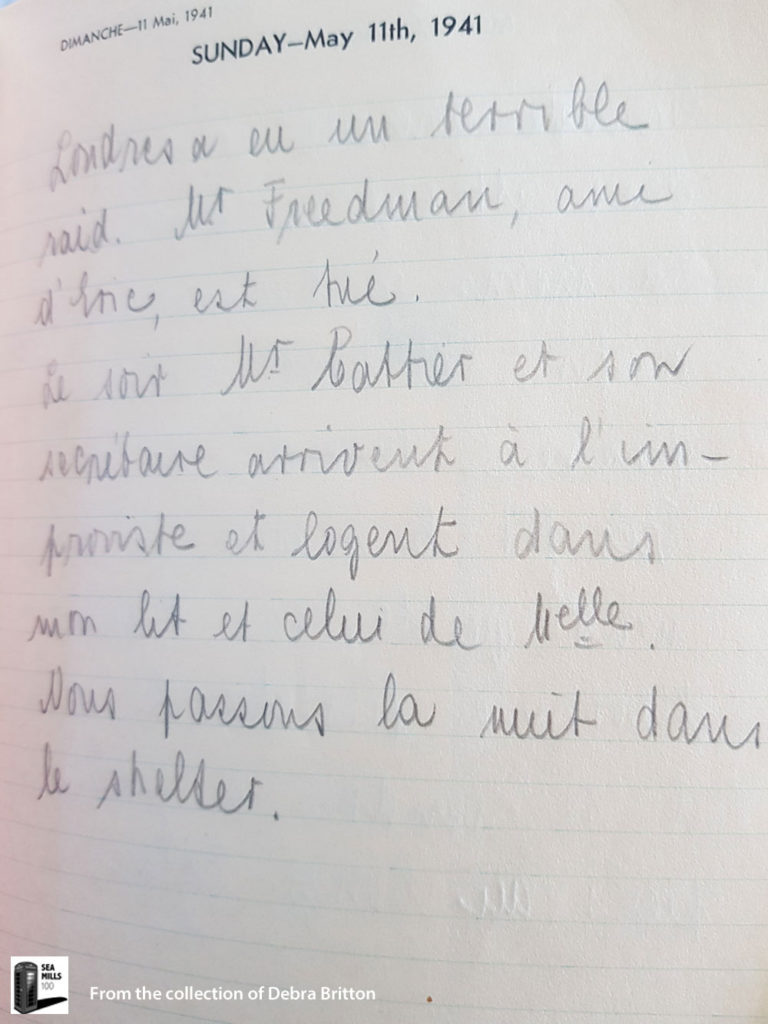 Sunday 11th May 1941
London has been hit by a terrible raid. Mr Freedman, a friend of Erics has died. In the evening Mr Carter and his secretary arrives at improvised hotel and stays in my bed and hers. We spend the night in the shelter.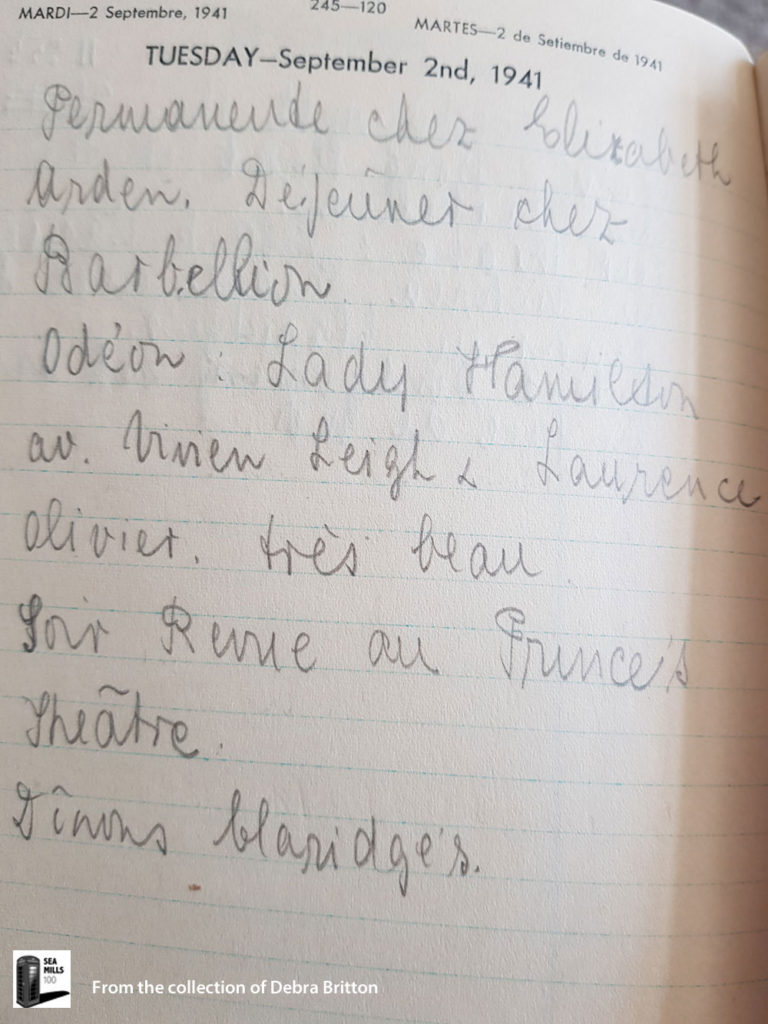 Tuesday September 2nd 1941
Odeon: Lady Hamilton with Vivien Leigh and Laurence Olivier, very handsome.
In the evening we go to a review at Princes Theatre. Dinner at Claridges.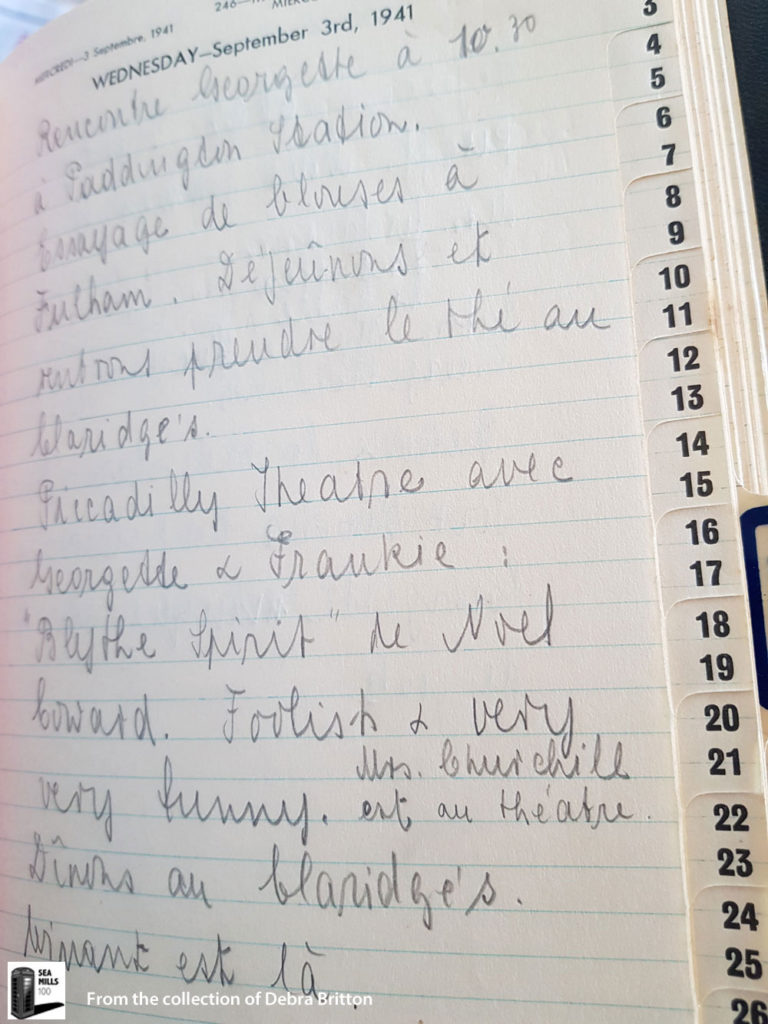 Wednesday September 3rd 1941
Met Georgette at 10.30 at Paddington Station. Went to try on blouses in Fulham. Lunch then had tea at Claridges.
Piccadilly Theatre with Georgette and Frankie. Blythe Spirit by Noel Coward "Foolish and very, very funny". Mrs Churchill was at the theatre.
Dinner at Claridges. ? is there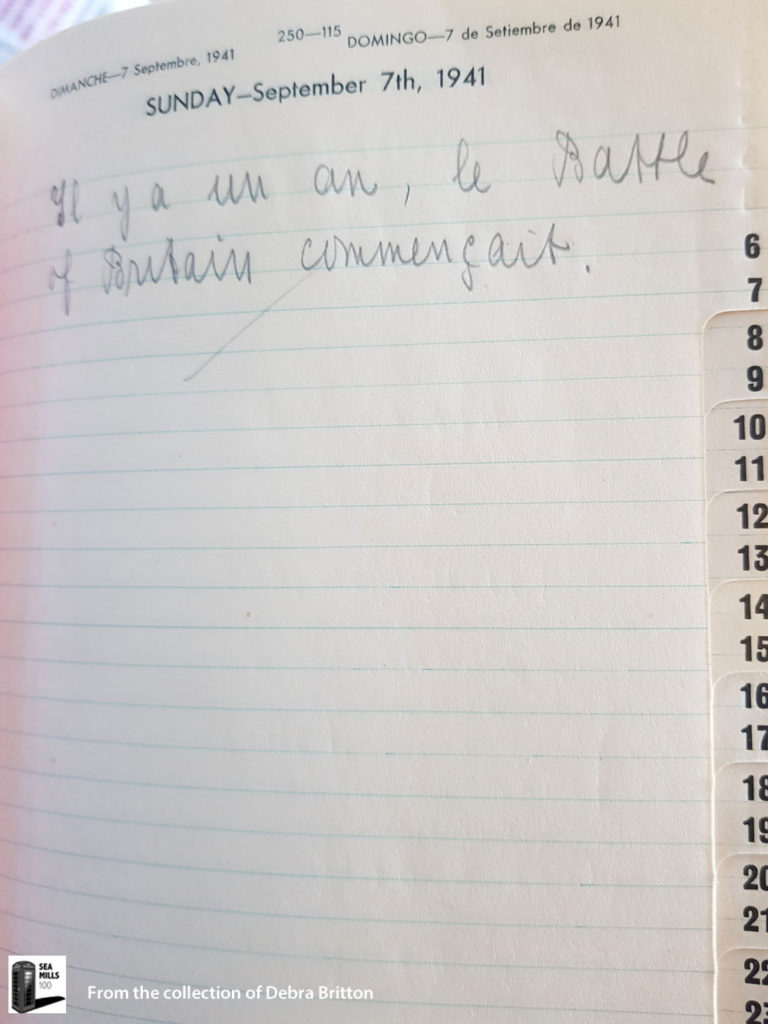 Sunday September 7th 1941
The Battle of Britain started a year ago today.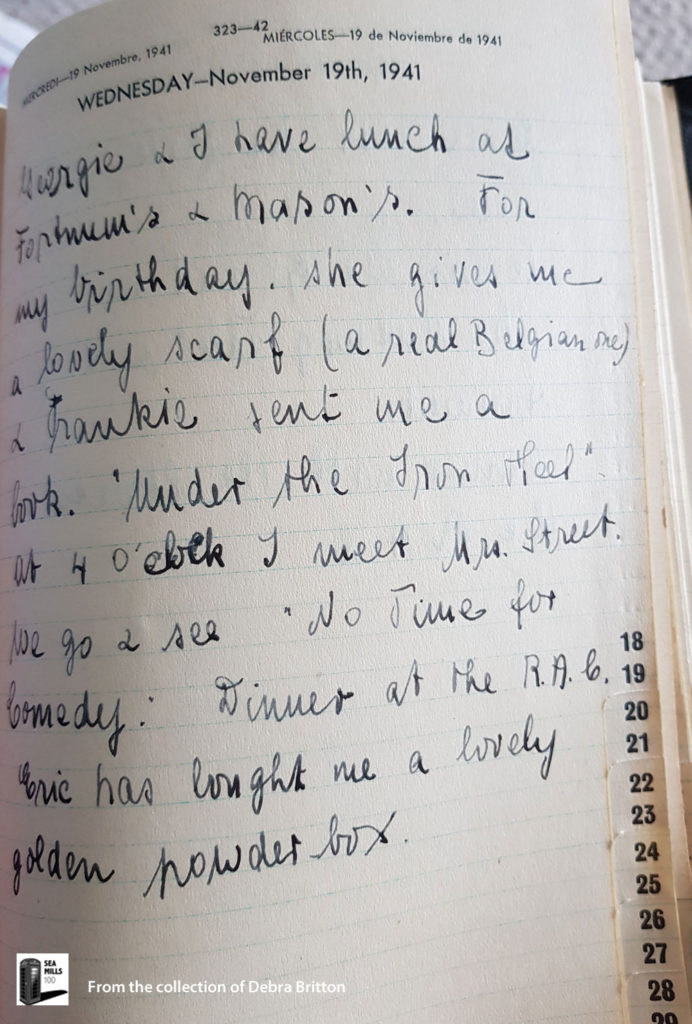 Wednesday November 19th 1941
Georgie and I have lunch at Fortnum and Mason's for my birthday she gives me a lovely scarf (a real Belgium one) and Frankie sends me a book "Murder the Iron Heel". At four o'clock I meet Mrs Street, We go and see "No Time for Comedy" Dinner at the R.A.C.
Eric has bought me a lovely golden powder box.
Thank you to Deb Britton for access to this material and Val Bradbeer for translation