After Haig Close, take the next turning on your left off Westbury Lane into Elberton Road. Continue to High Grove. Turn right then left into Shirehampton Road. Turn right again into Sylvan Way (7) keeping to the left-hand pavement.
The houses on Sylvan Way were the first to be occupied in Sea Mills, with residents moving in from August 1920. Within a couple of years, an article in the Western Daily Press remarked how Sea Mills was no longer a sleepy spot as every train between Bristol and Avonmouth now stopped there on weekdays, providing a regular commuting service to the new residents (30 June 1922).
Sylvan Way is the widest main route through the estate and has the deep grass verges characteristic of garden suburbs. It provides an attractive green gateway to the estate leading up from the Portway. Short terraces alternate with semi-detached houses. Their design is influenced by the simplicity of form of the Arts and Crafts movement – with minimal ornamentation and mainly flat fronts and backs – that might be considered unremarkable individually but collectively make a picturesque impression. Construction of the homes was partly financed through the selling of Bristol Bonds, as promoted in an advertisement in the Clifton and Redland Free Press on 22 April 1920 headed 'Do Your Share to Solve the Housing Problem'. Bonds ranged from £5 to £100 in value and could be redeemed after a minimum of five years at an interest rate of six percent per annum.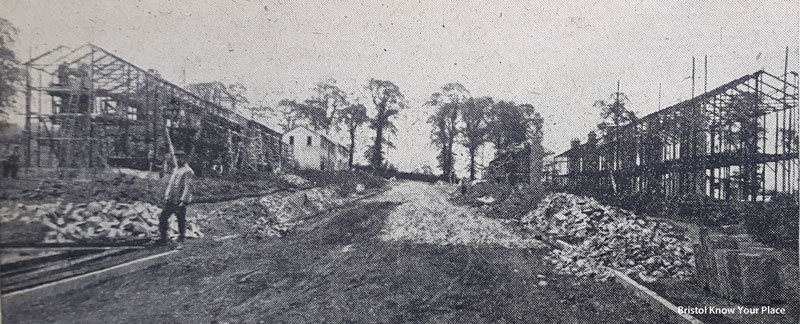 When the delegates of the Inter-Allied Housing and Town Planning Congress had completed their inspection of the Hillfields Demonstration Area on 5 June 1920 (see Hillfields walk), they came to Sea Mills to view some of the 250 Dorman, Long and Company (DorLonCo) homes that are unique to the southern half of the estate and include those on Sylvan Way. The houses were constructed on a steel frame. The outer walls are of cement and sand; the inner ones of breeze block. This was a non- traditional method that provided a quick alternative to brick-built homes when skills and materials were in short supply, but they were not cheap and the experiment dwindled from lack of funds after the Geddes Axe of 1921.
Another non-traditional method used in Sea Mills was for the Parkinson Pre-Fabricated Reinforced Concrete (PRC) houses built under the Housing Act 1924. They were finished in roughcast render with the exception of four red-brick pairs in Failand Crescent. Concrete proved less durable than brick and by the 1980s the council considered the Parkinson homes too expensive to repair, and demolished and replaced 132 of them. Locals campaigned to stop the demolition programme as there was no guarantee that people could move back again. It is a period remembered as one of uncertainty and sadness, although the campaign was ultimately successful and the council reverted to repairing the properties.
Haig Close / The Pentagon and St Edyth's Church (directions to next stop)