The Howell Family
Written by Keith Howell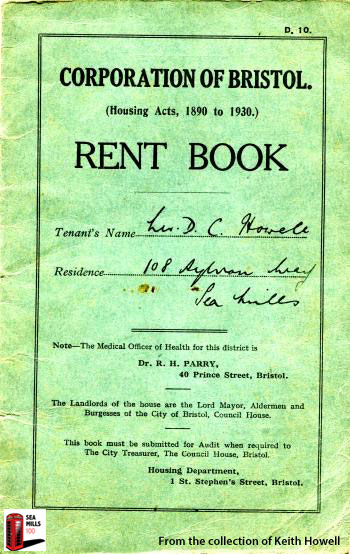 My parents were married at St Thomas church, Eastville, on 14th June 1930 and lived in North Road, Bishopston, where I was born, until they moved to 108 Sylvan Way on Monday, 9th October 1933.
My father was Dennis Clifford Howell, known as Dennis to his work colleagues and Clifford to all the family. He left school when he was 14 in June 1916 and worked at 3 different places before joining the Port of Bristol Authority (PBA) on Monday, 19th February 1917, at Queen's Square. After the move to Sea Mills, he was transferred to Avonmouth (Monday, 23rd April 1934), where he eventually completed 50 years service with the PBA.
We did not suffer from much bombing during the war, the only bombs being randomly jettisoned. My father had a reserved occupation at Avonmouth so he was not called up for National Service but his work pattern was long and tiring. Avonmouth was, of course, a bombing target and there were occasions when there was no routine, simply coping with what cropped up.
Air raids at night were a regular occurrence. We were issued with an Anderson air-raid shelter to be shared with the Gale family next door. Its erection involved digging a hole, bolting together the corrugated iron sheets to form a small hut in place within the hole, fastening seats along the two sides and finally covering the curved roof with turf.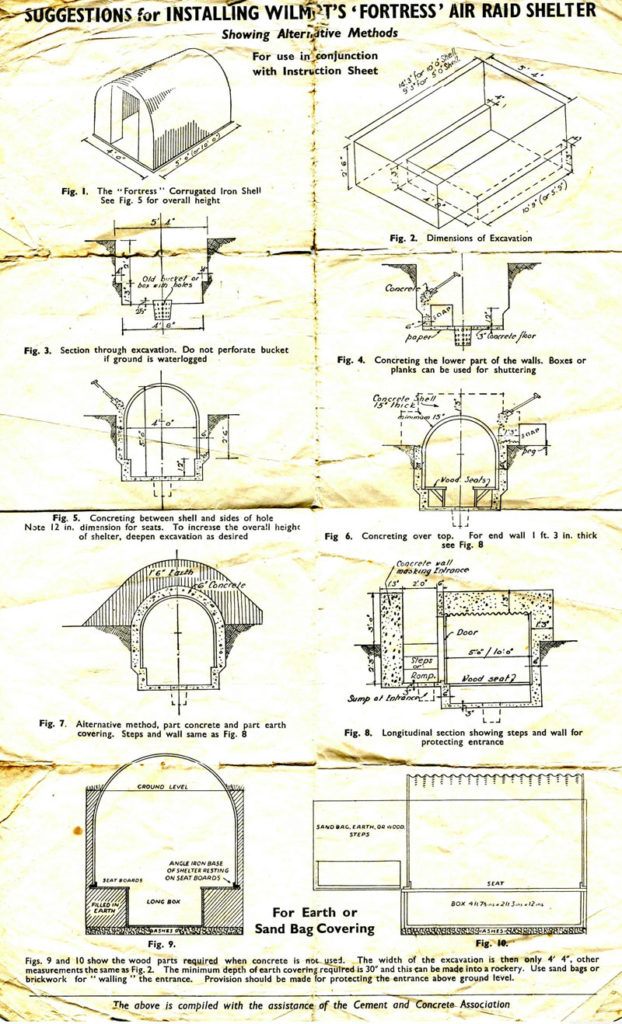 Hear Joan Castell talk about what it was like in their families air raid shelter (below)
This must have been used many times during the worst of the Bristol air-raids even though Sea Mills was not a major target for the bombing. We could see, from the open door of the shelter, the light of the fires in Bristol city centre, 5 miles away.
Later in the war, we obtained a Morrison shelter, a metal cage with solid steel top that was erected in the front room. With mattresses on top, where our parents were able to sleep, and inside where my younger brother Mark and I slept, this was a less uncomfortable way to spend the night than a cold, damp Anderson shelter.
Either just before or shortly after the start of the war, my father took on an allotment plot on the field between Hallen Drive and Compton Drive. At the time the only houses in this area were those along Sylvan Way and Westbury Lane with just two houses at the Westbury Lane end of Hallen Drive and Compton Drive. The rest of the area was an open field with several bushes across the middle. My father's plot was one containing many bushes that had to be cleared before any useful food could be grown. He needed several bonfires to dispose of the accumulated shrubbery.
The first year after clearance, he planted potatoes, always a recommended way to break up the soil. Thereafter, he planted vegetable and fruit canes, raspberries, blackcurrants and gooseberries. Ultimately these proved very productive on the virgin soil. He gave up this plot on 29th March 1950 and took over another plot on the other side of Compton Drive behind the houses.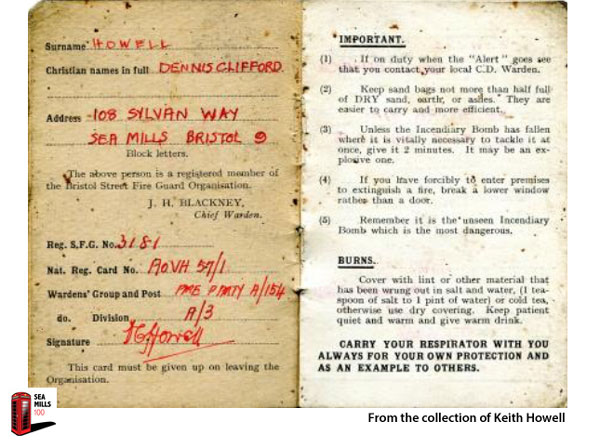 Not only did my father have his 5½-day-a week job at Avonmouth and the allotment, he also had the ARP (Air Raid Precaution) duty rota to watch for fires or other bomb danger with the other householders in the neighbourhood. In the early days they were termed the LDV (Local Defence Volunteers). It will be noted that my father entered his National Identity Code wrongly on his Home Guard document!
We all had our National Identity Cards that were issued on registration day, 29th September 1939 (see below). My number is engraved on my memory, OAVH 57/3. When you consider that this was less than 4 weeks after the outbreak of the war, it was a remarkable achievement. It was also used to control the issue of ration books a few months later. In addition, we all carried our gas masks around and there were occasional practices to ensure that everyone was able to put theirs on. Nasty smelly things!
Somehow we failed to surrender the child gas-mask assigned to my brother at the end of the war and, about 15 years ago, we donated it to the little museum associated with Coventry Cathedral. Before it went there, we took the opportunity to record it, together with its case.
Refugees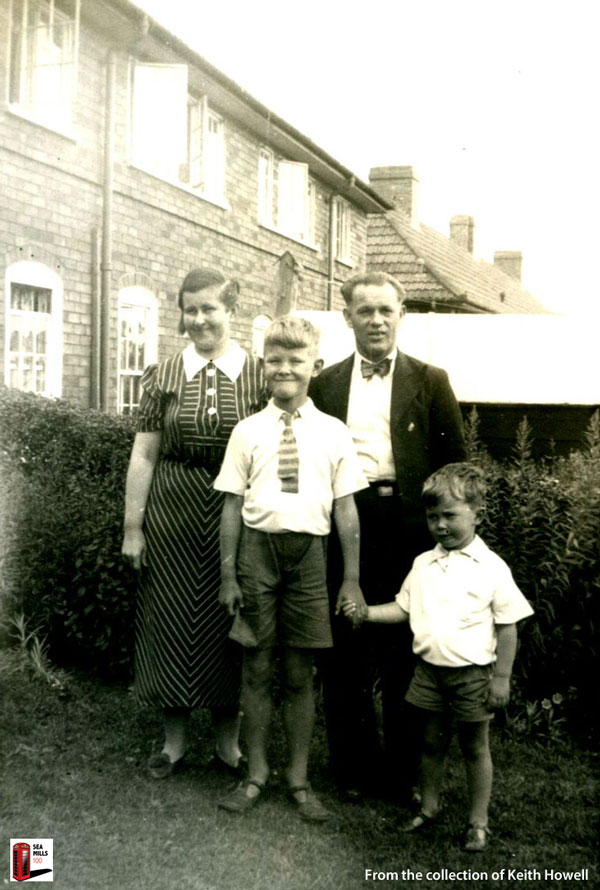 From Saturday, 10th July to 29th August 1937, we had a refugee couple billeted on us. They were Herr and Frau Rada, presumably German Jewish refugees. I am sure we made them welcome and I expect I was willing, even as a 6-year-old, to show them some of the woods. He made a big impression on me because he could vault over our gate. They also taught me my first German word Plaudetasche (chatterbox).
ENSA (Entertainments National Services Association)
For some time during the war, we used to accommodate peripatetic Entertainers who travelled around the country helping to keep service personnel cheerful at the various training camps. To record their movements, we kept a visitors' book that they filled in on arrival and departure.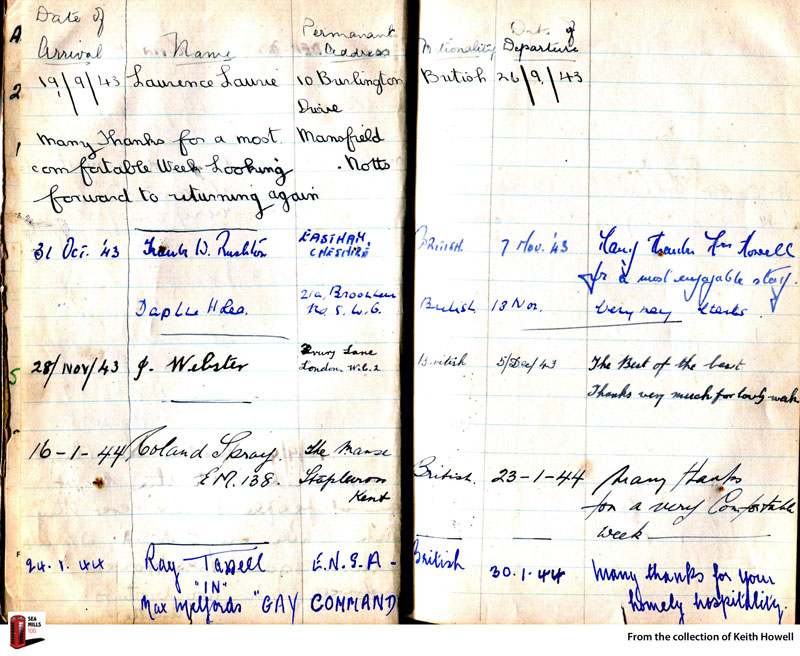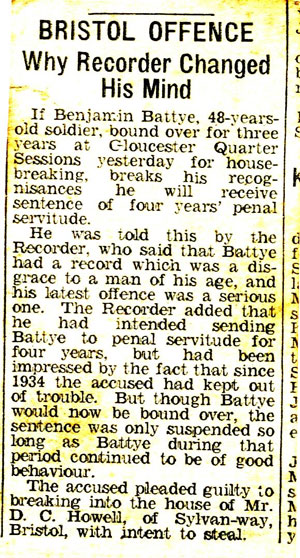 Burglar
During the early part of the war, my uncle was in the army undergoing training. Sometimes, he would be assigned 48 hours leave and he would return to Bristol if possible. My parents used to leave one downstairs window unlocked in case he turned up unexpectedly to sleep on the settee. One night, my father heard a noise downstairs and went to investigate, spotting an intruder in the hall. Arming himself with a chair, he kept the man at bay while my mother went next door to seek Mr Gale's help. The two men guarded the burglar while my mother went to the telephone box at the bottom of Sylvan Way to call the police. The man never showed any sign of violence but it subsequently emerged that he had a knife in his possession.
VE Day
At the junction of Sylvan Way & Westbury Lane, there was an small open area converted during the war to a static water tank. For VE-day, this was taken over by the residents for their celebration party. I don't remember much about the party itself. It was probably in the evening. There was also a gas warning post there, a post with a flat top painted with something sensitive to and changing colour in the eventuality of a gas attack.