Take West Parade to the Sea Mills Library and Community Centre (4). From the junction with The Crescent onwards, you will be passing a few of the more than 400 CNA2 type three-bedroom, non-parlour homes designed by the City Engineer's Department that were built in Bristol's inter-war estates. Alternating with these along West Parade are W H Watkins' WSB2s, a three-bedroom, non-parlour home. (The significance of parlours is explained in the Hillfields walk.)
The library is another landmark building on the estate. It was designed by C F Dawson, Chief Architect in the City Engineer's Department, and opened in 1934. This is one of Sea Mills' secondary centres and is located at the convergence of six roads with a clear line of vision in each direction.
The Community Centre is behind the library. (To reach it, go up Sunny Hill, to the left of the library entrance when facing the building.) The Sea Mills Community Association was founded in September 1945 and led a long grass-roots campaign to build a community facility for tenants. Residents were invited to purchase shares in the project for £1 each and enough money had been raised to begin construction by the late 1950s. Work was carried out over a period of five years by volunteers. The Centre is now closed but until recently was open for a variety of events each day including regular meetings of Sea Mills Amateur Dramatics. It also hosted the Sea Mills Flower Show, which dates back to the estate's early days.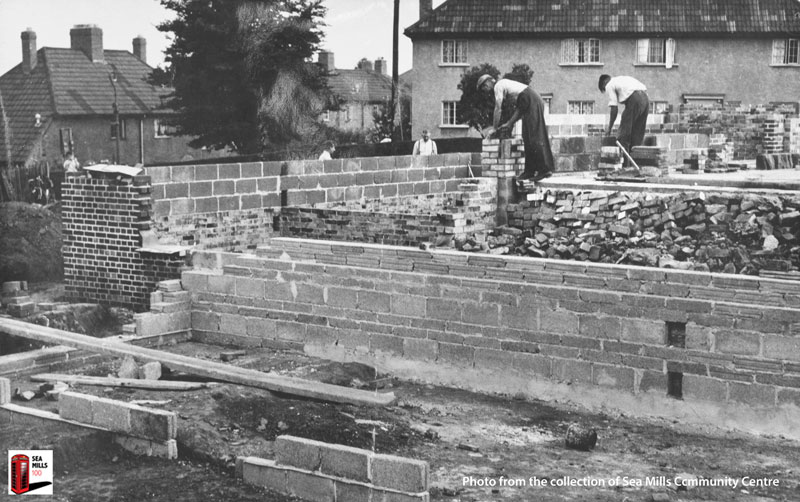 Methodist Church / Hallen Drive (directions to next stop)