Do you remember there being TARDIS style police boxes in Bristol? Their time here was short lived, so not many people do. Thirteen were installed in 1932 but by 1944 the decision had been made to replace them with much smaller police pillars.
We first became interested in this at Sea Mills 100 because some local residents remembered there being a 'TARDIS style' police box on Sea Mills Square, others were equally adamant that it had never existed. We now know that it was certainly there, and that it lasted for sometime after 1944 with an alternate use – the local lollypop lady used it to store her lollypop.
The Western Daily Press reported on 22nd March 1932 that an informal ceremony was held, that day at the police box in St Edyth's Road. It marked 11 boxes becoming operational.

Later that year two more boxes were installed bringing the total in Bristol to 13. It's intriguing that so little evidence of them remains. Bristol Archives holds a file of original material relating to their installation and maintenance. It shows that keeping them in good repair soon became an issue. The file contains only one, quite poor image which may be one of the Bristol boxes and we don't know which one.
We are lucky to have a couple of photographs featuring the Sea Mills box. The one above is taken from the window above what was Welch's drapers shop (now Collistear Beauty) on the Square. This was the first image we found and shows it's position on the Square, opposite the red K6 public phone box. Thanks to Richard Welch for providing that evidence.
The second photograph (below) comes from a collection held by Baruch College Archives in New York, amongst a fascinating collection of photographs they have of British police boxes. The railings around the box make us confident that this is the Sea Mills box. As far as we know these are the only surviving photographs of any of the police boxes in Bristol. We would love to see any more that exist.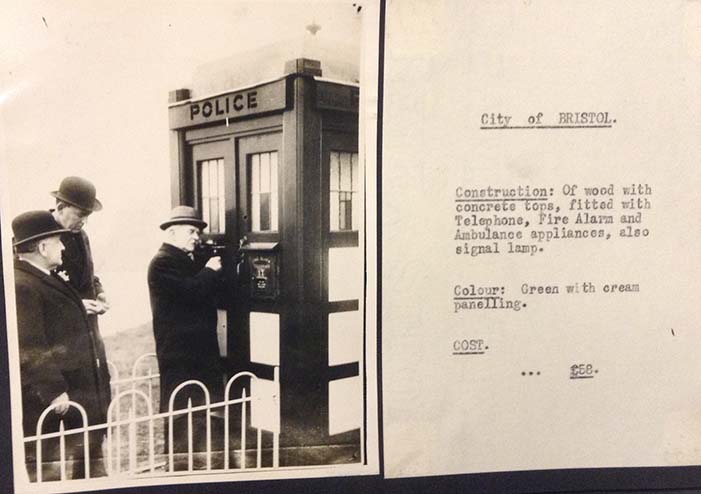 The boxes were installed on the newer housing estates to serve instead of police stations. They included a phone for use by the police and the public which connected to the nearest police station. The phone could also be used to summon an ambulance and there was a separate fire alarm. If the fire alarm was used, someone would then have to wait at the box to direct the fire engine.
When the light in top of the box flashed it was to alert the officer on the beat that he should call the station. Members of the public were urged to tell the local officer if they saw the light flashing. The officer could use the box to store equipment and paperwork and in even to confine a prisoner in an emergency.
Bristol police box locations
The 13* locations where:
Those operational on 22 March 1932
Horfield, junc Hazel Road with Toronto Road
Kellaway Avenue (Cotham Secondary School Recreation Ground)
Ripon Road St Annes
Henleaze Road
Shirehampton, junc of Kingsweston Avenue with High Street
Luckwell Road School
Cheddar Grove, Bedminster Down
Wellgarth Road, Knowle
Clouds Hill Road, St George
St Edyth's Road
Junction of Stoke Lane with Parrys lane
Installed later that year
Stoke Bishop, junc Julian Road and The Avenue
Speedwell Road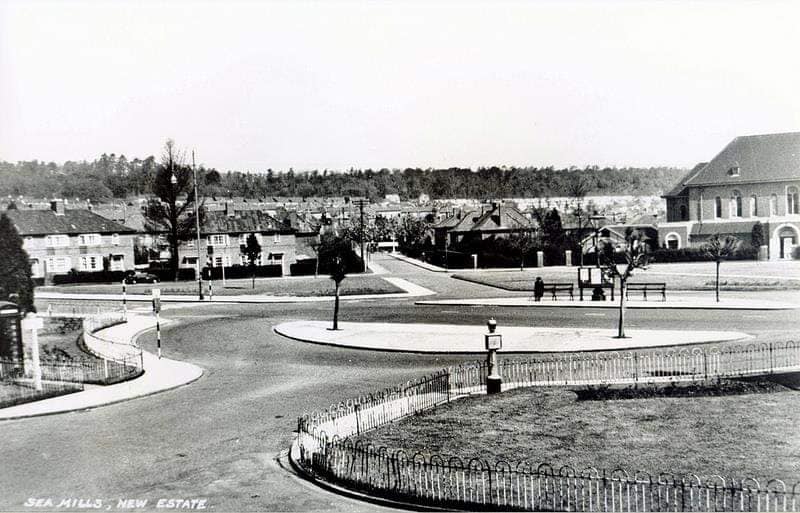 After 1944 all the boxes were replaced with police pillars which just included a telephone. The picture above shows the pillar on Sea Mills Square. We believe that at this point the original box was still there but have been moved to somewhere just to the right of the picture. We don't have documented proof of this though, so any further evidence or images would be welcome.
*there are some discrepancies with some maps of Bristol showing 'PCB' for Police Call Box at other locations in Bristol. However the file at Bristol Archives contains correspondence which clearly states that 13 boxes were installed in 1932. In 1944 it again states that there were a total of 13 police boxes and that they are all to be replaced with police pillars. Many more police pillars were added at various locations across Bristol including the centre. This discrepancy for the moment remains unexplained.
Links
https://archives.bristol.gov.uk/records/Pol/SP/4/2
https://www.bristolmuseums.org.uk/blog/have-you-seen-the-tardis/
https://blogs.baruch.cuny.edu/ipaprocessing/2014/11/its-bigger-on-the-inside/