Councillor Henry Makin
In 1939 Bristol City Councillor for – Avon Ward Henry Makin spoke in meetings, stressing the need for education in methods of protection against air attack. His family had also taken in a German refugee Josef Pfaffel.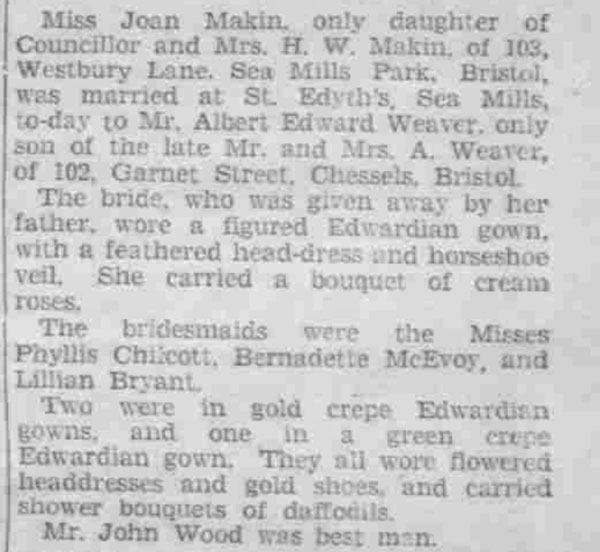 On 8th April that year The Bristol Evening Post carried a 'Feature of Colourful Bristol Ceremonies' (in black and white, of course). The item entitled 'In Edwardian Gown' reported on the marriage of Councillor Makin's only daughter, Westbury Lane resident, Joan Makin to Albert Weaver, of Garnet Street, Bedminster at St Edyth's Church.
By the end of the following year he was no longer a Bristol City Councillor. He was now serving in the Merchant Navy and his seat had been declared vacant due to non- attendance. Engineer Officer Makin had been in an internment camp in French-occupied Africa. The Western Daily Press of 20 December 1940 carried this story.

On 23 December they published an interview. Before he could get back home he learned that his wife, Alice, and only daughter had been killed in an air raid.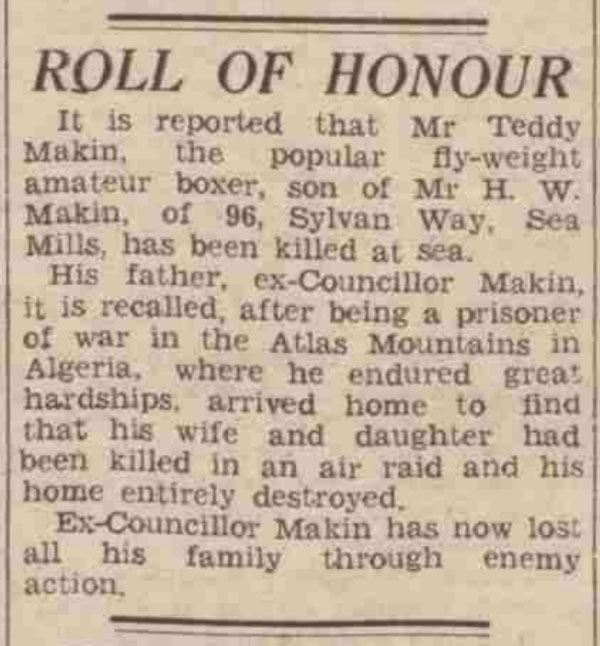 On 19 April 1943 the Western Daily Press reported the death of his son. He had now lost all his family through enemy action.
Thank you to Ruth Crumey-Davies for the research which makes up this page.