Hopefully you have noticed some changes on the Sea Mills 100 website recently. We have taken lockdown as an opportunity to spend time making some improvements and adding some Sea Mills and Coombe Dingle war stories in the run up to VE Day.
Hopefully amongst the stories we have managed to give a flavour of how people celebrated in Sea Mills and Coombe Dingle 75 years ago.
In 1945 both the Western Daily Press and Bristol Evening Post document celebrations all over the city. The "official" end of the war had come with plenty of warning and by the morning of the 8th May the streets were decorated with bunting and families had saved and pooled their food supplies to lay on street parties. A huge crowd gathered outside the Council House (then in Corn Street) to hear Churchill's speech relayed on loud speakers, there was then a brief silence followed by singing of the national anthem.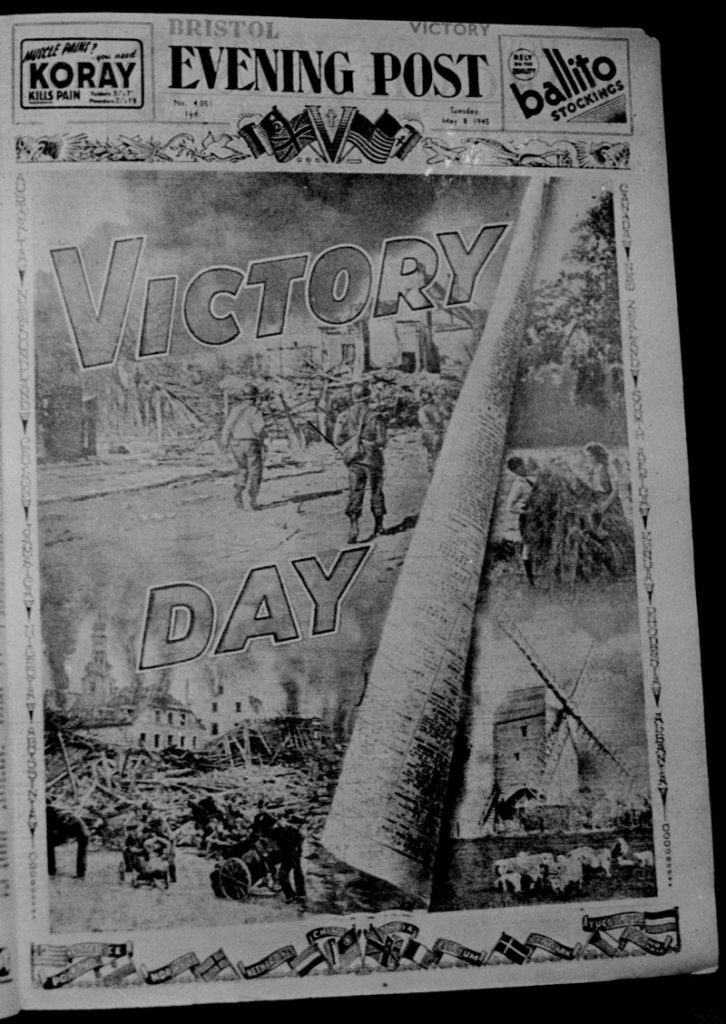 The Lord Mayor toured the centre in a horse drawn coach, crowds cheered and church bells rang. Churches were open all day for services and quiet prayer and were all well attended. The councils electricity department staff had worked late into the previous night and that evening the street lights in the city centre were turned on for the first time in years.
Left: Bristol Evening Post VE Day edition
A two day holiday had been declared to allow the nation "a brief period of rejoicing", in Sea Mills there were street parties, we had photographs from the celebrations in Highgrove and Weston Close.
The local school closed, and on the 10th May their log book states:
School re-opened this morning with a special service of thanksgiving and praise.
The normal time table was suspended this afternoon and the whole school assembled in the hall for a celebration programme provided by children of all classes.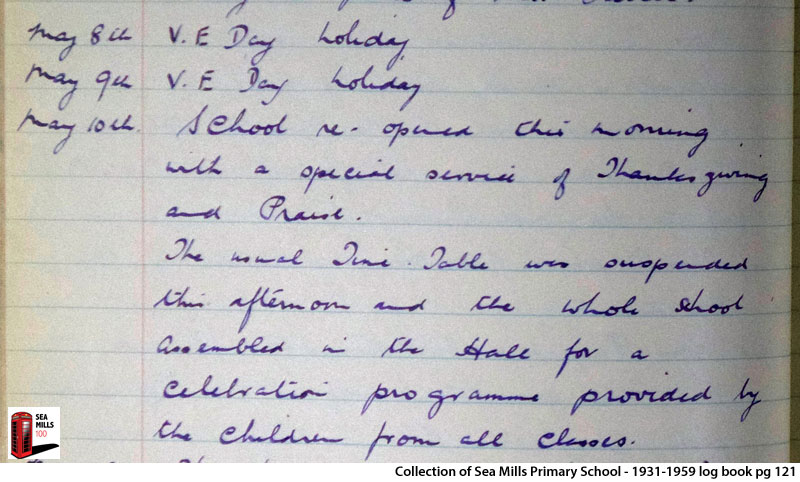 One has to remember of course that this was only the end of the war in Europe. VJ Day was not until 15th August that year and many units were still away fighting. It would be along time before some families would be reunited.
I want to thank everyone who has been so generous with their family stories and photographs. I know that some of you have spent considerable time gathering material together and fact checking with relatives. I hope what we have prepared together is a fitting tribute to them. It's not too late to contribute, we will continue to add stories and photographs to the War Stories section of this website and also collect stories from other eras. We would ultimately like the site to capture the spirit of Sea Mills and Coombe Dingle over the last 100 years, so if you have memories or stories you would like to share please get in touch.
If any of you are decorating your house or doing a stay at home VE Day event do send us some photos, and we are also still documenting lockdown in the area.
What ever you are doing, please do read and enjoy the war stories of this site as part of your day. They are happy, sad, tragic, optimistic and in some cases brutally honest about the mood at the time. Everything can be accessed from the "Sea Mills Heritage" menu at the top of this page, and various other links throughout the site.
If you are having a party or want to know more about VE day here are some links to some resources:
Print at home bunting and posters
Royal British Legion VE Day – including a live stream on the day
BBC Clips and resources
Colouring sheets for children
Museum Mum
Thank you to Eugene Byrne for his help preparing this page and check Bristol Post for his VE Day article on Friday.