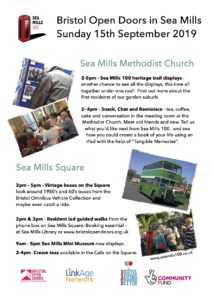 On Sunday 15th September 2019, we will be celebrating Bristol Open Doors in and around Sea Mills Square and the Methodist Church.
At the Methodist Church
2-5pm – Sea Mills 100 heritage trail displays – another chance to see all the displays, this time all together under one roof. Find out more about the first residents of our garden suburb.
2- 4pm – Snack, Chat and Reminisce – tea, coffee, cake and conversation in the meeting room at the Methodist Church. Meet old friends and new. Tell us what you'd like next from Sea Mills 100, and see how you could create a book of your life using an iPad with the help of "Tangible Memories".
In the Square
2pm – 5pm – Vintage buses on the Square
look around 1950's and 60's buses from the Bristol Omnibus Vehicle Collection and maybe even catch a ride.
2pm & 3pm – Resident led guided walks from the phone box on Sea Mills Square. Booking essential – at Sea Mills Library or online
9am – 5pm Sea Mills Mini Museum new displays.
2-4pm Cream teas available in the Cafe on the Square.
Events are run in association with Bristol Architecture Centre